Student representation
Students are central to the DTP, and we have developed a new system of representation to ensure that your voice is heard in all of our decision making and planning. Please get in touch with your representatives directly about any concerns, issues, worries, or praise that you have. 
If you are interested in becoming a student rep please contact the DTP administrator: nwcdtp@manchester.ac.uk 
Akiho Suzuki
Akiho is from Sydney, Australia and is currently undertaking a PhD in music psychology at the Royal Northern College of Music in Manchester. Her research interest lies broadly in performance psychology and is informed by her own experience as a classical pianist. She started a website called Psyc for Musos (www.psycformusos.com) in 2020 to share her research with a broader audience by providying evidence-based information and tips to performing musicians through easy-to-digest blog posts.
As a student representative, I hope to act as a bridge between the student cohort and the organisation to ensure that all opportunities provided by the NWCDTP are always closely aligned to the students' needs. I also hope to encourage knowledge exchange by providing the students with opportunities to share their research with the wider community.
Chloé Duteil
Chloé is a second-year PhD student in History at the University of Liverpool, researching coastal, environmental and cultural history. Her doctoral thesis examines how the physicality of coasts as hybrids of water and land shaped the identities, cultural values, and social practices of their dwellers, with a particular focus on Brittany and Wales in the late nineteenth and early twentieth centuries.
To me, being a Student Representative is an opportunity not only to enhance postgraduate researchers' engagement with the workings of the NWCDTP, but also to facilitate collaboration and discussion within and across institutions. Ultimately, student representation is fundamental in providing a space for PhD researchers to share their experiences, advice, or queries with others, thereby contributing to cultivating the sense of community in the North West.
Kate Westwood 
Kate Westwood is a final year PhD researcher in Linguistics. Her work, in collaboration with a Pupil Referral Unit, takes an interdisciplinary approach (from Critical Discourse Studies and arts-based, Participatory Research) to explore the language of those involved in school exclusion. The research is concerned with how the alternative discourses of young people can offer new perspectives on school exclusion.
I took on a Rep role for the DTP to facilitate more communication between students and the DTP itself. The role presented a good opportunity to bring student voice to the fore to further inform the DTP on how it can work in the best interests of its students. 
Qudsia Akhtar
Qudsia is in the second year of her Creative Writing PhD at the University of Salford. Her PhD is entitled 'Exploring the Fourth Space: Writing the 'I' of British-Pakistani Experience'. Her poetry has appeared in Acumen, Tower Poetry Anthology, The Ofi Press, and Poetry Birmingham Literary Journal. Qudsia's work has also been commissioned by the New Creatives scheme. Her debut collection of poems Khamoshi is out with Verve Poetry Press in March 2022.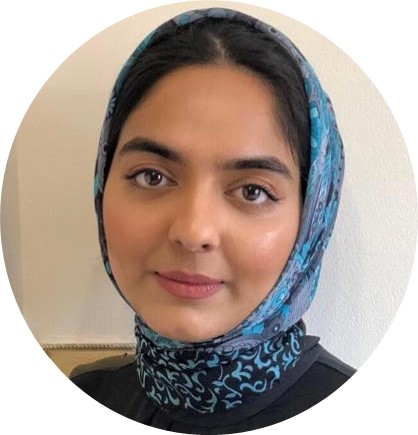 Navigating a PhD can be a complicated process. There are the long hours of research, setting your daily goals and tasks, and working to deadlines. One can easily get lost in the process of cracking on with the thesis and then simply forget to prioritise time for themselves. A lot of the information that is compulsory for the student can become background noise if one is not made aware of the useful material that is available to them. As student representative, I feel that it is my duty to ensure that all students are updated on the opportunities and funding that are available, and to set up regular social meetings so that the PhD study becomes a collective experience and frankly, less isolating.  
Raha Athari
Raha is in the first year of her PhD in English Literature and Creative Writing at Lancaster University. Her research focuses on diasporic memoirs by Iranian women, who narrate their memories of immigration after the Iranian revolution of 1979. She examines how the autobiographical narrators of these texts experience the traumatic consequences of immigration, which result in conflictual multiple identities. She also focuses, in turn, on the process of scripto-therapy and making sense of the past through narration in these memoirs.
This is a very good opportunity to get to communicate with other students funded by the DTP in my own institution, as well as with other Reps. It has been very nice to get to know everyone along the way and have a better sense of the community we are a part of.
Zoe Miller
Zoe is in the third year of her English and American Studies PhD at the University of Manchester. Zoe's thesis is titled 'The Female Form: Violated Metaphors of Modernism' and explores tensions surrounding sexual violence in modernist literature. She suggests that these scenes often assert their own significance as instances of violence or non-consent, working against the metaphors they are presumed to convey.
As a Student REP, I hope to be able to make the PhD process less daunting for prospective and current students. I am also looking forward to keeping a clear and more direct line of communication open between students and the NWCDTP, which I hope will encourage new collaboration and understanding.