A co-editorship placement experience 
A professional internship working as an assistant editor
at Prototype Publishing with a focus on the upcoming anthology 
Strangers Within. 
Partner overview
Prototype Publishing is an independent publishing house committed to creating new possibilities in the publishing of fiction and poetry through a flexible, interdisciplinary approach. Through the discovery of high quality work across genres, Prototype strives to increase audiences for experimental writing, as the home for writers and artists whose work requires a creative vision not offered by mainstream literary publishers.
Researcher
Rory Cook, University of Salford, School of Arts and Media. www.monitorbooks.co.uk
The Placement
For this Researcher-Led placement, Rory took an assistant editor position at Prototype Publishing, centred around two publishing projects: a collected works by the poet Stephen Watts and an interdisciplinary anthology, Strangers Within. The placement also encompassed other aspects of publishing and editing experience, including sales and marketing, design and production, as well as publicity and events.
The placement gave Rory the opportunity for a full industry experience in publishing, which is an area and the project's period of 6 months covered an editorial life-cycle, enabling him to see projects through from start to finish. This project gave Prototype an opportunity to work with a researcher with a relevant PhD specialism, applicable skillset of small press publishing, and motivation to progress in the publishing industry.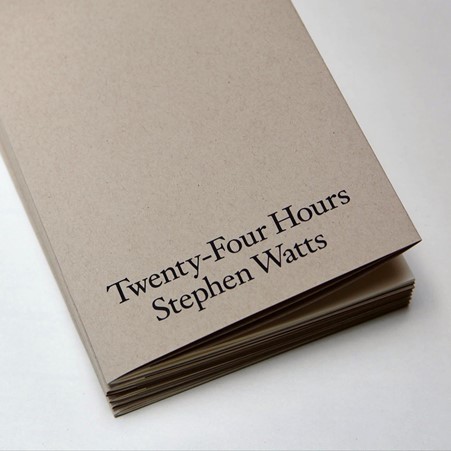 Activities
Rory's approach to this Placement was to offer expertise and new perspectives on the editorial projects. Rory edits his own small press, Monitor Books, which involves published bespoke editions focusing on poetry and other writing, and this strand of his work feeds into his PhD thesis research. This experience was useful for both projects at Prototype: Strangers Within includes a range of forms (essays, interviews, fiction, poetry) and working on Stephen Watts' collection involved archival visits, transcription, and sensitive editorial approaches. Rory also has high-level proofreading and copyediting skills developed throughout his academic career, as well as experience of editing academic and creative work for publication. Furthermore, he drew on his experience of organising literature events for considering launches and screenings relating to these publications. These form part of the project's output, along with the publications themselves — which will be widely available to Prototype's international readership.
As well as editorial tasks — such as soliciting and organising texts, copyediting, responding to author queries, and holding editorial meetings — the role also involved gaining valuable experience in sales, publicity & marketing (including social media), design and production, and researching funding opportunities. Some specific tasks included:
Liaising with the co-editors of

Strangers Within

and comparing notes on contributors, texts, and the overall direction of the book, particularly regarding its theoretical approaches to 'encounter'; also offering specific copyedits on texts in hand. 

Working closely with Stephen Watts on the texts for his collection, and transcribing/editing unpublished manuscripts from his archive. Then working on sequencing his collection, liaising with the designer and offering feedback, and thinking through the marketing approach for the book: soliciting blurbs, reviews, and events.

Proofreading manuscripts and offering comments to the designers, such as Lila Matsumoto's

Two Twin Pipes Sprout Water

(a 2021 Poetry Book Society recommendation) and Lucy Mercer's

Emblem

(the 2022 Poetry Book Society Choice).
Other responsibilities included managing social media channels (Instagram, Twitter, Newsletters) which involved sharing the work on the varioud projects with audiences, as well as assisting with events, including book launches in London.
Rory also began curating a new event series in London during the Placement, following on from a previous iteration in Manchester. Entitled 'Feature' and taking place at Cafe Oto — a prestigious venue — the first event in the series included a Prototype author (Lila Matsumoto) in the lineup, which meant Rory was able to cross-promote this event over social media. This successful event sold out quickly and has led to forthcoming events in the series at Cafe Oto. https://www.cafeoto.co.uk/events/feature-2022/
Outcomes
Stephen Watts' collected poems, How To Describe A Tree At Night: Poems 1975-2005, is a significant publishing event that importantly collects many works that are out-of-print and, in some cases, being presented for the very first time. Its publication further establishes Stephen as a major voice in UK poetry, continuing the work of Prototype (and its predecessor, Test Centre) in bringing his work to a wider audience. I think my work work on this publication has been substantial, and I'm so excited to see how the volume is received when it published in the autumn and in the years to come. The publication of Twenty-Four Hours, a previously unpublished poem by Watts written in the 1970s, anticipates the collected volume and is also a significant pamphlet publication in its own right; it's satisfying that this joint publication, between Prototype and my own small press, encapsulates the work we have done together on this project over the course of the Placement. During the Placement period, the Strangers Within anthology was delayed, and ran into funding hurdles, so although a lot of work was done on this project, I focused my work on Watts' book and on general publishing duties. Nevertheless, I think some of my input was important to the project's development and I'm looking forward to following the publication. This placement has provided me with excellent opportunities to gain publishing industry experience. I will continue to work for Prototype on a freelance basis, which highlights the success of the partnership — it has been the start of a meaningful professional relationship!
Rory Cook/ Researcher 
Rory's work and contribution has directly impacted several key publications, both of which have been shaped significantly by his input and ideas. His knowledge and experience have been a huge asset to the organization, and having somebody to discuss projects with has been fantastic. The care and thoughtfulness with which he approached each piece of work was consistently impressive, and it was an absolute pleasure for us to work together, as collaborators. Rory and I have developed a working relationship which will continue beyond the end of this placement. Rory's ideas and input have been invaluable, and been a huge help at every step.

For a small organization, having a researcher on placement significantly increased our workforce, and Rory became an integral part of Prototype throughout his time with us. I can't overestimate how valuable this was. As a researcher with his own interests and expertise, he brought new perspectives and ideas to us, and was able to help us develop new initiatives and projects. We ended the placement working on a co-publication, showing that this project and our relationship has already led to work well beyond the scope of the placement, which has certainly been a highlight. I would highly recommend this type of PhD collaboration, especially if the student and organization are well matched, as was certainly the case here. Encouraging students to approach places they have a particular interest in is what I imagine makes most sense, ensuring that they bring relevant skills and knowledge to the partner organization.

Jess Chandler/ Publisher/ Prototype Publishing
This is the first placement that I've been party to in ten PhD supervisions as main supervisor. It has been enormously beneficial and I will certainly look to encourage future students to take advantage of the NWC funding for such opportunities. I believe that this has been a meaningful and productive part of the researcher's training, data collection and knowledge creation, whilst the placement provider has recognised the degree to which they have benefited from the researcher's perspective on their work.  I'm convinced that a highly meaningful exchange of knowledge has taken place – evidenced by the publication of a collaborative volume between the researcher's own small press enterprise and the placement and an ongoing working relationship. Aside from the academic training provided within the PhD, the placement has added additional industry-specific and highly transferable skills as well as an actual ongoing source of income. The nature of the researcher's exploration of contemporary poetry has also benefited from close editorial engagement with the work of a major practitioner.

Dr. Scott Thurston/Rory's PhD Supervisor/ Reader in English and Creative Writing/ University of Salford 
Read more about Rory's project in this blog post.